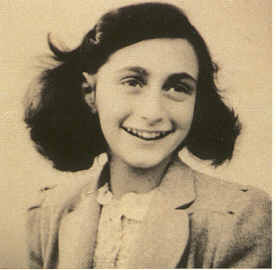 Scene 4
What are you thoughts to Anne's nightmare and the reactions that other characters have to it?
I didn't find it very surprising that Anne had the nightmare. It is very common for people to have those dreams when they are scared of something. In this case Anne is very scared of being caught by the German soldiers. She is scared that they are going to take her and her family to the Concentration camps where they are left to die. I don't think that Anne knows why she is having this dream. She probably hasn't given much thought to what would happen if they were caught. However, after this nightmare she knows how much it means to be taken by the Germans. She knows her true feelings about how scared she would be. When she will take better care about how she behaves in the house and be better at keeping quiet during the day.
I think that her dream was supposed to have happened sooner or later. When people are scared the develop feelings that they forget about. These thoughts or images are kept in their mind and are sometimes expressed in their dreams. So Anne hasn't thought that much about being caught. And therefore, these tiny thoughts have shown in her dream as a nightmare.
I think that with the situation that the families are in, it is obvious that Anne will have these feelings. The families are constantly scared of being caught that they can hardly bare it. Therefore they try their best not to show their feelings to each other. They keep their feelings to themselves in order not to scare all the others in the home. This is what Anne has done, but her quietness has resulted to a terrible nightmare.
I think that Anne is very surprised form this dream. She probably didn't expect that being captured would be so terrible. Or she just hasn't thought about it that much. I can see that even after they have woken Anne up she is still crying, shouting and frightened.
I was very surprised with the way the family acted towards Anne's behaviour. They all had differant ways of expressing their feelings. Dussel was angry and tired of her constant whinning. Mr. Frank wasn't very worried, he acted fine with the way she was acting. And Mrs. Frank was completely scared and didn't understand why Anne was acting that way. Mrs. Frank even ended up crying which I thought was a bit dramatic.
At first I didn't understand why Anne wanted to talk with her dad and not her mom. I think that generally mothers are easier to talk to as they have gone through all the experiences that you have. They also have good advice, and are easy to talk to. However, after thinking back about Anne's mother I actually do understand why Anne would rather talk to her father. Mrs. Frank is a very mature lady. She doesn't talk back, she does what she is told and she follows the rules. She isn't wild or funny, rather silent and well-behaved. Therefore Anne is actually the complete opposite of her mother. Anne doesn't care to speak her mind. She dares to do things her mother would never dream of. Anne is much more like her father. This is why she would rather talk to him. As they are both very alike. Anne would rather speak to someone who could give her advice and would she would feel comfortable around. This she doesn't feel around her mother.
To Mrs. Frank it seems like Anne doesn't like her. This is not Anne's intention though. She just feels more comfortable around her father because he is more like her. Mrs. Frank thinks its because she doesn't like her anymore. Anne's behaviour is also what normal teenagers go through. They usually like their fathers more than they like their mothers.
I think that Dussel should have been more sensative. It sounded like he didn't care at all about how Anne was feeling. He sounded like he was angry with the way she was acting during her sleep. However, I think it is quite understandable. Dussel isnt used to children. He doesnt know how they act at all. He even says so himself. Therefore when Anne begins crying he thinks shes being childish and thinks that Anne is being a baby.
URL: http://myhero.com/images/guest/g4256/hero4204/g4256_u1953_ANNE_FRANK.JPG 28 May 2009